Ron Athey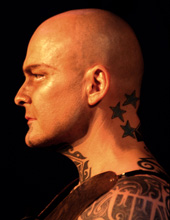 Biography
Ron Athey has been a practicing artist since his first collaborations with Rozz Williams in Los Angeles in 1981. Athey rose to international prominence during the US Culture Wars of the early 1990s, when a section of Four Scenes in a Harsh Life (1994) brought his work to the attention of right-wing legislators, resulting in a denunciation by Jesse Helms on the Senate floor. In Athey's series such as The Torture Trilogy (1993-95) and Incorruptible Flesh (1997-2008), which have toured internationally, physical actions stand in as decoys for events too final to repeat: a deep piercing is the arrow in St Sebastian's liver, a scalpel cut becomes Philoctetes' foul gash, an unhealing wound.
Residency
Athey's new performance for Outside AiR was created at Queen Mary, drawing a large cast together in an expansive group performance. The co-performers were drawn from a group that included students, staff and alumni of the university. The performance itself, Gifts of the Spirit Part One: Automatic Writing (A Study and A Score) focused upon notions of channelling through automatic writing. These ideas are also explored in Athey's forthcoming memoir, Gifts of the Spirit, and earlier multi-media work, JOYCE. Athey also convened lectures and workshops within Queen Mary during his time as Artist in Residence.
Other work
Athey lives in London, and has recently completed his time as Visiting Artist in the Centre for the History of Emotions at Queen Mary, University of London. This position was funded by the Leverhulme Trust, and included a series of lectures and panel discussions on his own work, poetics and religious emotions in performance and 'victim art'. Athey will be touring his acclaimed solo series Self Obliteration (2008-10) in 2011 and is studying towards a PhD at Greenwich University. His visual art work is represented by Western-Projects in Los Angeles.
Links
Website: www.ronathey.com