Kira O'Reilly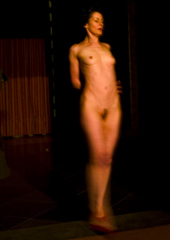 Biography
Kira O'Reilly is a UK based artist; her practice, both willfully interdisciplinary and entirely undisciplined, stems from a visual art background; it employs performance, biotechnical practices and writing with which to consider speculative reconfigurations around The Body.
Since graduating from the University of Wales Institute Cardiff in 1998 her work has been exhibited widely throughout the UK, Europe, Australia, China and Mexico. She has presented at conferences and symposia on both live art and science, art and technology interfaces. She has been a visiting lecturer in the UK and Australia and U.S.A in visual art, drama and dance. Most recent new works have seen her practice develop across several contexts from art, science and technology to performance, live art and movement work.
She has been artist in resident at SymbioticA, the art science collaborative research lab, School of Anatomy and Human Biology University of Western Australia (2003/4) and School of Biosciences, University of Birmingham (2007/) 09), both funded by Wellcome Trust and Arts Council of England.
In 2007 she began to make 'dances', with her 43-year-old non-dance trained body, resulting in a new movement based work Untitled (Syncope) commissioned for SPILL Festival of performance. During 2008 she investigated similar performance strategies during a research period at Chisenhale Dance Space, London, developing Untitled (for you beloved) for Endurance, VIVIVD, Birmingham 2008.
In 2009 new works included falling sleep with a pig (2009) commissioned by The Arts Catalyst for INTERSPECIES in Manchester and London. She presented the durational work Stair Falling (2009) exhibited as part of Marina Abramovic Presents . . . at Manchester International Festival. She was also SPILL 09 Festival of Performance's Thinker in Resident Her work inthewrongplaceness (2005 – 2009) was curated by Jens Hauser in the highly successful sk-interfaces, Creating Membranes in Art, Technology and Society, at Casino Luxembourg.
Residency
During her residency Kira O'Reilly explored points of connection and resonance between her practice and the research activities of Queen Mary, University of London, in particular in relation to medical and life sciences. O' Reilly produced the new performance Untitled (syncopations for more bodies) at the Outside AiR Festival in November 2010. The performance was developed and performed with Lauren Barri Holstein, Hrafnhildur Benediktsdóttir, Nathália Mello and Amanda Prince-Lubawy and glanced, glimpsed and amplified syncopal swoons, rythyms and disrythyms of movement across five similar and dissimilar dancing bodies within the levels and viewing sights of the Great Hall.
Other work and links
Website: www.kiraoreilly.com
Blog: www.kiraoreilly.com/blog