Julia Bardsley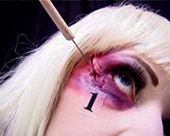 Biography
Julia works in various combinations as director, performer, filmmaker, photographer and installation artist. From 1985 she was joint founder of the award winning company, dereck, dereck Productions; works include; Cupboard Man, Gaudete and The Vinegar Works (all at Almeida).
She has directed new works in opera, dance and theatre; Uranium Miners (ROH at Donmar), Difficult Walking (ICA), Hamlet Dances (Purcell), Bed (NT), Fallen Angel (Bush) and Baby Doll (NT).
From 1991-1994 she was joint Artistic Director of the Leicester Haymarket and Young Vic Theatres, where works include; Macbeth, Therese Raquin, The Family Reunion, Blood Wedding, Frankenstein, Dead Soil, Under Milk Wood and Hamlet?
Installations include Punishment and Ice-cream, The Error Display, Field, the 12/stages Projects and most recently,Fami-liar with the visual artist Wayne Lucas. Julia's first film, Snow was selected for the Edinburgh, Greenwich and Madrid Film Festivals. In 2002 she collaborated with composer, Andrew Poppy on Avalanche Thoughts, co-commissioned by GAle GAtes, New York and New Territories, Glasgow. She provided the video projections for Andrew's most recent project …And The Shuffle Of Things at Chelsea Theatre and UK tour and for his White Carol (with erasures) performance as part of Paul Morley's 2010 Xmas show at the South Bank, London. Her videos, What's Behind the Curtain? and Foolish Suicide Attemptswere presented at the VAD Festival 2006 and 2007, Girona, Spain; Second International Media Art Festival, Yerevan, Armenia and Act Art 5 London, 2007.
In 2005, as a result of a NESTA Fellowship, Julia set in motion The Divine Trilogy, a series of solo pieces that forge an intimate dialogue between the audience and the performer, the artist and the creative process, live presence and the visual art object. The first in the series, Trans-Actswas presented at the NRLA, Glasgow; Trouble#1 Festival, Brussels; SPILL Festival, London and Karnart, Lisbon. The second piece, Almost The Same (feral rehearsals for violent acts of culture) opened at the 2008 NRLA, Glasgow; Karnart, Lisbon and Sacred at Chelsea Theatre, London (2008 and 2010) and has been shown at Queer Zagreb Festival, Croatia, City of Women Festival, Ljubljana, Slovenia and SPACE UK at La Laboral, Gijon, Spain 2009. The final part, AfterMaths: a tear in the meat of vision offers an optimistic reading of the apocalypse laced with a critique of capitalism and premiered at SPILL Festival of Performance, Laban, April 2009 then played TROUBLE #5 at La Bellone, Brussells and the NRLA 30th anniversary at Tramway, March 2010.
In July 2010, Julia was invited to be a mentor artist for CoLABoratorio, Brazil. She presented two R&D versions of her new project based on the Family, Uma Familia – primeiro exercicios – Teresina & Uma Familia – secundo exercicios – Rio.
In March 2011 she is an Outside AiR resident artist at Queen Mary University creating the next phase of The meta-FAMILY Project.
Performing in Agony: an analysis of stage-fright created by Lois Weaver and Julia Bardsley was presented at ZOOM Festival/PSi#15, Rijeka, Croatia, September 2010.
Julia is an experienced practice-based teacher, facilitator, mentor and workshop leader, running workshops in the UK, Europe and internationally. She delivers bespoke seminars and performative talks on her creative processes and is a visiting lecturer at several London arts institutions.
Since 1989, Julia has been collaborating with the composer and writer Andrew Poppy. Their most recent collaboration Improvements On Nature, was commissioned by Sacred Festival of Performance at Chelsea Theatre. They are creative partners of the cultural umbrella, BARDSLEY_POPPY projects and have been invited to be the inaugural Artists-in-Residence at Chelsea Theatre from 2011 to 2013. In 2011/12 they will be collaborating with Lisbon based company, CasaBranca to create a singing performance event with and for children.
In 2007, Julia was awarded an Honorary Doctorate from Middlesex University.
Julia is an Artsadmin Associate Artist.
Further information
The Skin Of The Theatre: an interview with Julia Bardsley by Dominic Johnson
Contemporary Theatre Review - volume 20 issue 3 August 2010
Trans-Acts performance text, images and footnotes by Julia Bardsley, part of an anthology of play texts 1968 – 2010 entitled Theatre in Pieces: politics, poetics and interdisciplinary collaboration edited by Anna Furse. Published by Methuen 4 July 2011
Foolish Suicide Attempts from Trans-Acts - DVD
SPILL Festival of Performance 2007 - DVD
NRLA 30 Anniversary Boxed Set – Books and DVDs
Contribution to the SPILL TAROT as The High Priestess
Featured in SPILL Festival of Performance: On Agency, published by Pacitti Co. - www.spillfestival.com
Contribution to Artsadmin 30 - Curtain Theatre Curtain: 30 second exposure
All available from unbound - www.thisisunbound.co.uk
Additional material available at the Live Art Development Agency study room: www.thisisliveart.co.uk/resources/Study_Room
Links
Website: www.juliabardsley.net
MySpace: www.myspace.com/juliabardsley
Videos: www.vimeo.com/popbardprojects