Helena Hunter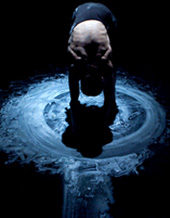 Biography
Helena Hunter is a UK artist based in London; her diverse output of work includes live performance, performance for camera, film and photographic works. Hunter's work addresses complex cultural issues relating to the politics of the body, the construction of gender, and the formation of desire. Her practice incorporates the body and movement, and utilises the body as text, site and sculptural tool. Her practice is research based and process led, employing independent studio based research and dynamic collaboration. Hunter's work has toured throughout the UK and Europe and she has delivered lectures, artist talks, workshops and professional development schemes nationally and internationally.
Residency
Helena Hunter was Artist in Residence at Queen Mary, University of London in the Department of Drama during October and November 2009. During the residency Helena engaged in a period of research and development for her new work dis-locate that premiered at the Sacred Season, Chelsea Theatre on 27 October 2009. Hunter gave artist talks, led workshops, and worked with students and staff during the development of the work. She also collaborated with the School of Biological and Chemical Sciences, and gave an artist talk as part of Quorum-Research Seminars in the study of theatre and performance.
Other work
Hunter's work has toured throughout the UK and Europe including performances at The National Review of Live Art Glasgow, Royal Opera House London (ROH2), Chelsea Theatre London (Sacred), FEM_09 Spain, and EEC London. Hunter featured in The SPILL Festival of Performance 09 as part of the SPILL Tarot project and in the Live Art Development Agency 10 Year Anniversary Photograph. Her work Horse Tales was commissioned by the Foundation for Women's art for the Uncanny Tales exhibition that featured the artists Paula Rego, Ana Maria Pacheco, Marcelle Hanselaar and Oona Grimes.
Hunter delivers lectures, artist talks, workshops, mentoring and professional development schemes for individuals, groups and institutions. She has worked as an educator and facilitator at The Laban Centre London, Queen Mary, University London, University of Leeds, and University of Girona Spain. In 2009 she received a DIY project bursary from the Live Art Development Agency to support her professional development scheme for emerging artists.
Links
Website: www.helenahunter.com
Blog: http://helenahunter.wordpress.com